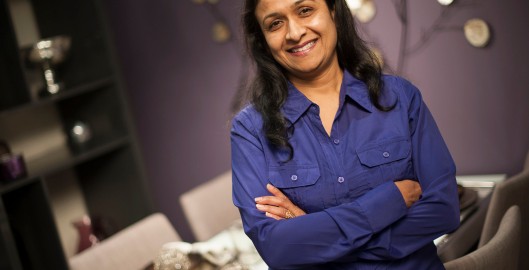 Charu Patel recognizes a great investment opportunity when she sees one.
The physiotherapist lives next door to the property where Lash Group of Companies is developing ME Living Condos, and she has a great appreciation for the Markham and Ellesmere neighbourhood's desirability. She purchased a two-bedroom suite and is delighted with her decision. "I love living in this area," she says. "It's very multicultural, and the people are all so nice. I have made many friends and a lot of my colleagues live close by. It is a very convenient place."
Charu points out that easy access to public transportation and schools makes the intersection appealing to renters. "Churchill Heights Public School, Woburn Collegiate Institute, Centennial College and University of Toronto Scarborough Campus are all close by. My husband, Dinesh Patel, is a real estate agent, and he also feels I made a good investment. In fact, some of his friends have bought at ME Living Condos as well."
According to Charu, ME Living Condos has a lot going for it when it comes to appeal. "I like everything about the building," she says. "I visited the presentation centre a couple times before deciding. The building design with the courtyard is nice, and I really like the layout of the suite I bought. The open-concept design is roomy, and there is a cosy dining area. It is perfect for a small family or roommates. Touring the model suites really made a difference for me. I saw in person the potential in the suites."
Each suite comes with an impressive complement of standard features including European-style cabinets, granite countertops, laminate, ceramic tiles and dense carpeted floors. "Everything will be beautiful," Charu says. "And the amenities in the building are amazing. Renters don't usually have this kind of luxury." She refers to the Tanner Hill & Associates-appointed common areas beginning with the chic lobby, which will have a dramatic water feature and will be home to 24-hour concierge service. Residents will also have the exclusive use of the condominium's fitness facilities, theatre, party room, private dining room, demonstration kitchen, sports lounge, guest suites and the inviting podium rooftop pool, outdoor fireplace, tanning areas, barbecues with private dining and lounge areas.
Charu is grateful for the excellent service she has had from Lash Group of Companies' sales representatives. "They are very helpful. I have found purchasing my suite a pleasant process." In short, Charu says she is happy with her decision to buy. "There is a huge demand for rental accommodations in this area, and at ME Living Condos, tenants will have the privacy of their suite, plus the opportunity to socialize in the amenity spaces. I am confident that I made a good decision."
Available suite choices include one-bedroom, one-bedroom plus den, two-bedroom and two-bedroom plus den suites ranging from 384 to 842 square feet and starting in price from the low $200s. Be sure to tour the 681 square-foot one-bedroom + den Morris and 842 square-foot two-bedroom + den Lily model suites to see for yourself, as Charu did, the appealing design and topnotch construction quality that can be yours.
Over the past half century, Lash Group of Companies has built more than a dozen luxury high-rise condominiums and residential developments as well as millions of square feet of industrial and commercial space in the GTA.
The ME Living Condos Presentation Centre is located at 1151 Markham Road. Hours are Monday to Thursday from 12 to 6 p.m.; weekends and holidays 12 to 5 p.m.; Friday closed. To find out more about this master-planned community, call 416-430-0003.
Where ME Living Condos is Located: